TERRAIN NAVIGATOR PRO
Generating work flow efficiency and increasing return on investment for today's mapping professionals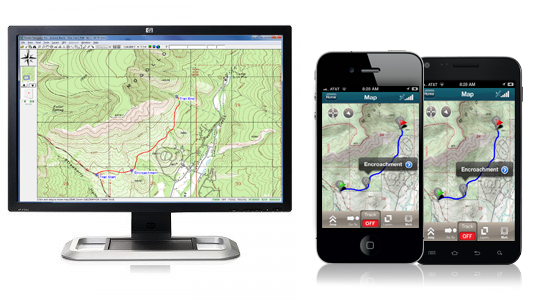 Terrain Navigator Pro (TNP) is powerful and easy to use desktop and mobile mapping software that contains high resolution scans of USGS topographic maps as well as current aerial photographs overlaid with a current street layer. These maps and photos can be customized with labels, marks, symbols, lines, routes, tracks, area fills, GIS data sets, and notes. Once you have finished designing your custom maps, use the built-in printing and publishing to create digital and paper prints with text, logos, inset maps, legends, etc. Layers, maps, and photos can be exported to be used in other GIS and CAD software or image editor.
Take advantage of your smartphone's GPS receiver to bring one less piece of equipment into the field. Accurately and easily plot positions, follow a premade route/track, generate a property boundary, take high-res photos and videos and sync them all to your TNP desktop project before you even get back to the office.
TNP is a great time saver, increasing your return on investment. Don't know how to get to the first point of your survey? TNP can show you the appropriate topographic map, street map, aerial photograph, NGS benchmark and render them all in 3D. You can also exaggerate the 3D view so you get a clear understanding of the terrain you'll be encountering as you get to your project area.
TNP is also a great tool for estimating job costs before you set foot on the property. As J. Craig Brewer from Professional Surveyor Magazine said, "With TNP, the tools I need to prepare proposals quickly and accurately are all found in one place. I can get a good idea of obstacles and conditions and arrive at a good estimate of time required to complete the project." (February 2011)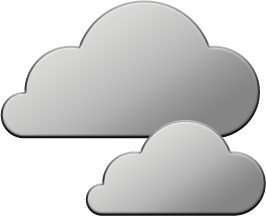 Your Data in the cloud
Share your data in near real-time with colleagues at the office to streamline project workflows. The TNP app uploads data as it's collected, so professionals with the same project open in the TNP desktop software can view the field data and collaborate to make accurate, on-the-spot decisions.
Seamless cloud sync between mobile devices and desktop
Updated 1 meter Color Aerial Photos (see coverage map)
Choose from an expanding library of current and historical aerial photo and topo map additions
Scans of the official USGS topo maps to produce the highest quality maps available
Three scales for the continental US: 1:24/25,000 (7.5 minute series), 1:100,000 scale and 1:250,000 scale. Alaska is 1:63,360 and 1:250,000 scale
MyTopo's Internet servers store aerial photo coverage for the entire lower 48 United States. 1-meter (1:12,000 scale) photos are available everywhere
Customize your maps and aerial photos with labels, marks, symbols, lines, routes, tracks, area fills, and notes
Create information in TNP and use it in GIS and CAD applications that use ESRI Shapefiles, ArcView GEN, GPX or KML data
Export maps and photos to any graphic/image editor (including Photoshop)
Built in Desktop Publishing with page blocks. Create custom map pages with text, logos, inset maps, legends, etc.